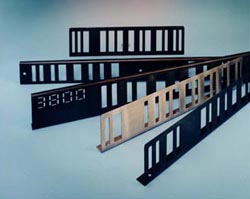 Our code labels offer the perfect solution for harsh environments. Available in a wide assortment of shapes and sizes, they can easily be configured to meet any system's unique requirements. Smarteye's code labels can tolerate both extreme temperatures and environmental contaminants. Our patented design insures reliable reads after hi-temperature environments & irregular conveyor operations.
Standard labels manufactured from 12-gauge cold-rolled steel with black oxide finish
Optional label materials available

10-gauge cold-rolled steel with black oxide finish
12-gauge stainless steel (type 304)
Aluminum
Laser-cut structural steel

Label motion up to 400' (121.9m) per minute (depending on size); can be read under any condition of carrier motion including forward/backward and stop/start
Number range up to 16383, numbered either sequentially or in specified ranges (100-199, 300-399, etc.)
Can be optionally configured to include a single unpunched area within the data pattern to cover fixture posts or other carrier structures
Other options include punched-through readable digits (requires additional label size), C-style flange design for additional strength, mounting brackets, & laser cut into your carrier.