Maximizing Paint Shop Efficiency
When most people think of Australia, it's usually crocodiles or kangaroos that come to mind. But, all GM Holden, Elizabeth, Australia, thinks about is efficient production of quality automobiles. You might be surprised at how the manufacturer achieves maximum efficiency at its state-of-the-art facility...
---
By Steven R. Kline Jr.
Editorial Director
Several years ago, GM Holden decided to build a new paint shop for its Elizabeth assembly facility. Business was good, demand was increasing and the old paint shop was not up to the task of efficiently producing top quality vehicles as capacity increased. GM Holden wanted the new paint shop to have the latest paint application, conveyor and vehicle processing. However, to take full advantage of this new equipment, it needed a product routing and tracking system that could integrate with conveyors and process equipment, automating many previously manual tasks.
GM Holden had a long list of features that were required of the new routing and tracking:
automatically transmit vehicle model, color and repair information to the paint booth robots to reduce labor content and eliminate manual data entry errors;
integrate with existing plant-wide scheduling and information management systems to improve production;
provide real-time routing and shipping updates for just-in-time improvements;
provide a means to collect and store inspection/defect results that could be used to automatically setup subsequent repair operations, reducing labor content and eliminating manual data entry errors;

integrate with conveyor control PLCs to automate vehicle routing decisions based on multiple vehicle attributes and process status;
keep track of production rate counts on a per hour/per shift basis;
integrate automatic identification that could withstand high oven temperatures;
provide computer-based real-time vehicle tracking to facilitate system fault tolerance and self-healing for auto ID reader faults;
provide automatic carrier maintenance routing for cleaning and repair;
be user-changeable without stopping or interrupting production;
provide standby equipment and redundant real-time data to ensure a high level of system availability for continuous operation;
be easily maintained by existing manufacturing support staff with minimum training investment; and
system supplier must be able to provide remote access support in order to assist local support staff if necessary.
Not only did the new routing and tracking system have to physically tie in with the existing body and trim shop assembly systems, but it had to make use of existing body shop radio frequency (RF) ID tags too. These RF tags, which were located on the vehicle, were used to capture model, color and option content. However, the RF tags proved unreliable in the paint shop because they could not positively identify each vehicle at key decision points. The main reason for the unreliability of these tags was the various environments, including the caustic body washers, dip tanks, high-temperature ovens and paint booths, they had to pass through.
After an extensive definition and bidding process, GM Holden selected Smarteye Corp. to install the new paint shop auto ID and routing and tracking system. The reader for this system is based on a code label made of heavy-gauge steel that is incorporated into the conveyor carrier. The code label number identifies the carrier at read points as the label passes through infrared sensors for decoding and storage in a multi-port interface device. The label number is then transmitted to the main control system where it is used as the key to access stored product data in the control system for the vehicle on the carrier.
At GM Holden, electrocoated bodies approaching the paint shop are transferred from overhead power-and-free carriers to the paint shop's inverted power-and-free carriers that are equipped with code labels. The paint shop carriers then pass through a Smarteye reader and an RF tag reader where the vehicle data is read from the RF tag and associated with the code label number that resides on the carrier. As vehicles come to decision points in the paint shop, their carrier label is read. The routing controller then transmits data or decisions to the PLC located on the vehicle. At paint booths, vehicle data is transmitted to the paint robots to ensure the proper color and spray path is used for each vehicle. This routing and tracking system automates the entire process, eliminating the possibility of human error.
Once the vehicles have been routed through the appropriate sand and sealer areas, they are multi-color prime coated, baked and inspected. Prime inspection results and routing directions are then entered into the PLC through a data entry panel. The routing controller then reads this data from the PLC, stores it in the real-time database and makes the appropriate process setup and routing decisions. If necessary, a complete prime rerun can be accomplished. Once the prime operations are completed, the vehicles are merged with others in need of a repair pass. These vehicles are then routed to one of two paint booths, depending on whether the vehicle is a monotone, tutone or repair job.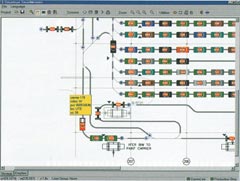 After the vehicles exit the paint booth and ovens, they are routed onto one of two inspection decks. Here, employees use similar equipment and inspection processes as that of the prime area but with additional inspection requirements to allow for tutone and multi-pass repair vehicles.
As vehicles are routed and rerouted throughout the paint shop, the routing controller transmits status update messages to the plant-wide scheduling system to allow for timely sequencing of just-in-time material deliveries to the main trim shop.
Once the vehicle painting is complete, the routing controller sorts vehicles in a small four-lane storage bank. The bank uses a simple dedicated lane approach to sorting vehicle models and options to assist downstream trim shop assembly operations. At the time, this approach was adequate. However, as demand, model and option content proliferated, this bank became one of several bottlenecks within the plant.
GM Holden realized that it had several areas of the plant that were experiencing throughput problems, including the bank at the exit of the paint shop. The increased capacity demands, along with model and option content variability, had clearly outgrown the capability of the bank in the paint shop.
Concurrently, the trim shop was adding more and more people to handle the growth, but costs continued to increase. One of the major difficulties was the varying line rates between the body shop, paint shop and trim shop. GM Holden was also concerned with the increasing costs of painting a vehicle due to the number of available colors and the associated number of color changes required.
The trim shop in particular was experiencing load-leveling problems and was having difficulty keeping up with the accelerated paint shop production because of the labor intensive operations common at that stage of the manufacturing process. If two labor intensive vehicles come back-to-back or several in a row, the workers had a difficult time keeping up. For example, two vehicles needing sunroofs should not come back-to-back because workers simply don't have enough time to complete both sunroofs without stopping production.
To alleviate the variability and labor optimization problems, GM Holden considered installing an automatic storage and retrieval system (ASRS) that would reside between body, paint and trim. Essentially the "body-in-white" vehicles from the body shop would be stored and resequenced into color blocks before shipment to the paint shop.
Color blocking is a process that sequences as many of the same color vehicles in a row to the paint booths. By doing this, color changes are minimized and spray guns don't have to be purged as often, saving paint and solvent and improving overall quality while reducing environmental emissions. The painted vehicles would then be shipped back to the ASRS for storage and resequencing based on optimization rules for shipment to the trim shop. The ASRS would also act as a large, dynamic surge buffer between body, paint and trim.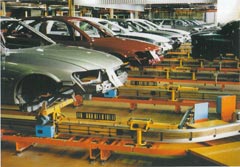 Sounds great, right? It is, but an ASRS with this capability is very expensive and requires a large, tall building to house the enormous racking system and cranes. While the system was intriguing, GM Holden had budget and building constraints that precluded such an endeavor. GM Holden eventually opted for an alternative proposal that used the penthouse level of the old paint shop building to house a large multi-lane selectivity bank to perform the same functionality. Also, an electrified monorail conveyor was installed to ensure the high-speed throughput required for the bank. GM Holden asked Smarteye to perform simulations to determine the feasibility of the idea. After several simulation trials, the new idea was quoted and turned out to be significantly less expensive than the ASRS solution. Smarteye also provided a separate computer control system that was needed for the bank to keep controls for the paint shop separate from that of the bank for maximum fault tolerance and ease of integration.
After a few months of fine-tuning, the 15-lane bank performs all of the duties that were expected and then some. Along with the dynamic bank controls for color blocking and trim resequencing, GM Holden also wanted a database system that could gather and store historical data on color blocking efficiencies, trim shipment history, production counts and other diagnostic information for the system. Just-in-time trigger points were also added from the bank control system to the plant-wide scheduling system as vehicles exit the bank en route to trim to improve material disbursements and shipments to the plant.
Lastly, GM Holden wanted the ability to track production through the bank with a graphic user interface that tied into the computer control system and PLCs. For this, the company had SmartMonitor installed. This is a high-end graphics package that provides a real-time graphical view of the entire banking system with bank counts, vehicle body counts by model and other ad-hoc querying capabilities that allow a bird's-eye view of the entire system. This technology gives supervisors immediate confirmation of what is happening in the selectivity bank and alerts them to any potential problems so they can remedy them as expeditiously as possible.
Has GM Holden been pleased with the performance of the system? Just ask Colin Hurst, plant and equipment manager at GM Holden, "Smarteye has done a real nice job for us. We depend on their system to keep body, paint and trim running smoothly, and it does just that. Also, their ability to monitor and update our system via modem is terrific. Instead of having to get on a plane, their engineers can remedy any problems we may have right from their offices in the States."