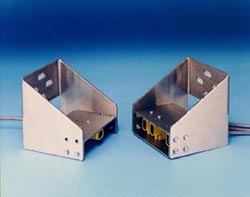 Rugged construction and long-term, low maintenance operation make Smarteye's Sender/Receiver Reader the unit of choice for any industrial setting - from the searing heat of ovens and steel mills to the damaging effects of paint booths and caustic chemical facilities. The sensor assembly provides reliable identification under all conditions of motion, even in the most hostile surroundings.
Stainless steel construction
Epoxy-encapsulated, gasketed sensors (UL/CSA/CE approved)
Meets NEMA 1, 2, 3, 3S, 4, 4X, 12, and 13 ratings; IEC IP67
Operating temperature: minus 20 to 70 degrees Celsius
Explosion-proof enclosure option
Can mount directly to Unistrut or similar structure
Flexible bracket design allows multiple mounting orientations
LED indicators permit simple alignment
Optional pre-engineered mounting assemblies available
Reader wiring to junction box: Receiver - 6' (1.82m), sender - 25' (7.62m)
Each reader can be located up to 1500' (457.2m) from its control unit using Belden 9773 cable or equivalent
Power supplied by Smarteye Control Unit
Up to 120" (3.05m) from sender to receiver, depending on application
Longer read distances available for special applications
SP1052/01 Less than .5" Bit Size
SP1054/01 .5", .75" or 1" Bit Size
SP1055/01 .635" Bit Size
Custom applications are available,
contact Smarteye Corporation
for details.