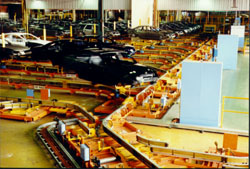 The Smarteye Controller System (SCS) is the brain behind our Routing and Tracking systems, providing:
Product Routing & Tracking
Automatic Process Setup
Color Batch Optimization
Product Re-sequencing
Automatic Storage & Retrieval Control
Quality and Historical Data Collection
Automatic Conveyor Carrier Cleaning,
Lubrication, and Repair Routing
Because the SCS is an engineered product rather than a custom design, it uses standard functions and features. We then configure the controller to meet your specific Routing and Tracking control requirements.
Our systems are designed to be fault-tolerant for demanding 7x24 operations. Your application becomes user-changeable, without requiring any special programming skills or stoppage of production operations. Once installed, you are in control of your system.
The SCS is easy to learn, and uses intuitive configuration menus for simple access to system functions. Readily supported by your plant staff, it will simplify the way you do your job.