In high-volume automation systems, even small errors result in constant maintenance, chronic down-time and increased costs. The tolerance for control systems errors is zero. Smarteye's routing and tracking systems are considered by many to be the most reliable in the world. Why? Because we design our systems with six key concepts in mind: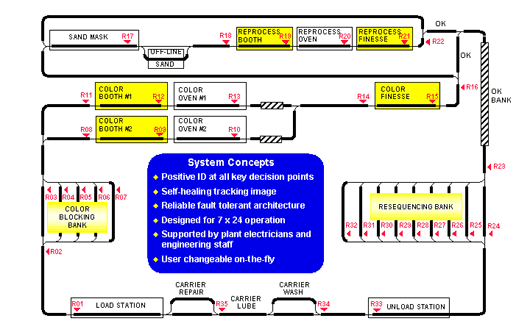 We offer unparalleled solutions in the areas of:
Automatic Identification & Tracking
Routing Control
Automatic Storage and Retrieval Systems (ASRS) Control
Selectivity Bank Control
Plant-Floor Scheduling
Graphic User Interface
Real-Time Monitoring
Information Management
At the heart of each solution is the Smarteye Controller System (SCS) - the flagship of our product line and the cornerstone of every Routing and Tracking system we deploy.
To make a good thing even better, we offer the SmartMonitor Graphics Workstation. SmartMonitor provides a "bird's-eye" graphical view of your plant floor utilizing our high-performance, real-time display system.
Finally, the Smarteye DataManager (SDM) lets you collect, review and analyze plant-floor data captured by the SCS, giving you instant access to the production information you need.